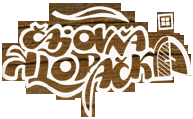 Our teahouse is in a splendid building of previous mining Klopačka tower. Here you can have a rest in relaxing atmosphere and enjoy more than 150 tea sorts and tea specialities, smoke a water pipe, or have a genuine Arabic coffee. Furthermore, your children have here also a place for playing and having fun (they can wage cushion war) and for this we were granted a certificate as a Baby friendly institution by the Union of Mother Centers.

Inside of the teahouse you will regularly come across various exhibitions (photos, paintings, patchwork,…).

The tea quality is very important for us and that's why we are the one who also import tea into Slovakia. Tea imported by us you can buy directly in the teahouse or online – at our web site.

We also advise new opening teahouses and, if asked, make interiors. The ones made by us you can see in teahouses Via Thea in Žiar nad Hronom and Medulienka in Piešťany.

At the same time, we offer a special service "teahouse at your home." It is a moving teahouse that you can order for your company party or other events. We come and prepare with pleasure special tea directly at your home. Thus, real atmosphere of a genuine teahouse is brought to your home.


























©2005 Čajovňa Klopačka - All rights reserved - webdesign VISIBLE BRAND, s.r.o.